If you want to get to know Eduardo Rodrigues Dias, IT director at Nelnet Diversified Solutions (NDS) since mid-2018, it's not hard. You just need to catch up with him and walk alongside while he goes through his day – because he's in continual motion.
There's no such thing as a normal day in Eduardo's line of work, but his team has come to rely on him to bring a wide variety of expertise across different industries and continents to the table. He invites collaboration to keep everything moving in the right direction with Nelnet's Velocity platform, which is a system that guides the development of innovative and easy-to-use online products.
"I have my daily responsibilities just like everyone else, but I try to combine the strategic aspect of my role with the tactical duties of the team, staying close by to help out," Eduardo said. "We're in the early stages of product development for Velocity, and we're working with local STEM students to familiarize them with what we're working on. It helps us recruit talented students, and it helps them learn about new areas that will be relevant to their future."
Eduardo's 20+ years of experience prior to Nelnet spans many jobs and locations. He worked in manufacturing, education, healthcare, and financial technology in locations like Miami, New York, Arizona, Sweden, and his home country of Brazil. After his last role at a lending startup in California, Eduardo chose to come work at Nelnet.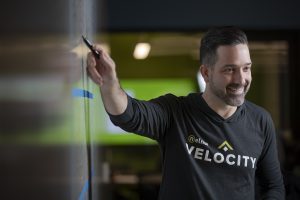 "I love building products, that has always been something I've been passionate about," Eduardo said. "Nelnet presented me with that challenge by letting me lead the development of a brand new platform in Velocity. Being able to make a big contribution to such a large organization was extremely appealing to me."
In addition to being passionate about his work, Eduardo explained that another reason why he chose to move to the Midwest is because it's a great area to raise a family.
"There are different things I loved about each of the places I've lived, but Nebraska has made me feel like I was back home in Brazil because the people here are so nice," Eduardo said. "I also love having a home with a backyard that my kids can play around in, and the time I spend driving to work is nothing here, compared to the other places I've lived."
Even when he isn't working, Eduardo is constantly learning new things. After moving from Brazil and learning English as a second language, he knows how important it is to keep his mind hungry for knowledge.
"Everything is always changing, so if I don't learn new things I won't be able to keep up," Eduardo explained. "In the beginning of my career, with the language barrier, it was very hard to keep up. I just kept learning every day, because I knew that if I wasn't constantly learning, I would fall behind."
Eduardo loves learning so much that he even optimizes his commute time, as short as it is, by listening to audiobooks. He's made his way through 28 books in the last 10 months.
If you see Eduardo around, feel free to say hi and get a feel for what the Velocity team is working on. Or, ask him about Star Wars, cars, healthcare, Sweden, or manufacturing; with Eduardo, there's no end to what you can talk about!
Learn more about the information technology department at Nelnet.
Want to work on Eduardo's team? Check out open IT positions at Nelnet today!